As we come to the end of the year, I thought it would be a good time to look back on some of the best moments that happened across the sports world in 2018.  The moments where we look away from the TV screen bursting with emotion, as we reflect lovingly on the incredibly rewarding life we all live as American sports fans.
1. The Philadelphia Eagles Winning their first Super Bowl in Franchise History.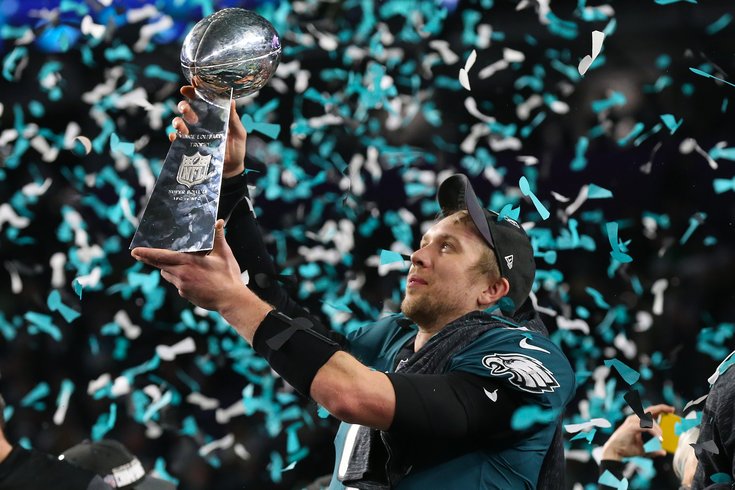 From PhillyVoice.com 
The long-suffering fans of Philadelphia finally got to cross "Super Bowl Champions!" off the li—
No.
I can't do this.  I can't write about other people's favorite teams reaching the mountaintop of their individual sports while mine have once again caused me to open the liquor cabinet in order to cope with, rather than celebrate, another season come and gone.
Being a sports fan, is basically just socially acceptable Masochism.  Let's take the NFL for example, most people only have one (1), NFL team they live and die by.  Some people harp on "moral victories" to make up for their team's glaring shortcomings, but we all know their hearts hurt just as much as the rest of us as they watch someone else dance in the winner's circle year after year.
Obviously not all teams are created equally but for the sake of argument, let's say you have a 1/32 chance of watching your team hoist the Lombardi Trophy come the first Sunday in February.  That's hovering at slightly above a 3% chance, yet you still watch, week in and week out, even though once Week 8 rolls around, about 2/3rds of the league looks in the mirror, sighs, and checks out Todd McShay's Big Board.
Another year has come and gone and, just as I expected, my teams broke my heart. Whether it be through crushing playoff losses (Looking at you, Columbus Blue Jackets 2-0 lead on the Capitals), or sheer, unwavering incompetence (*cough*  The REDS *cough* ), it truly was a year to remember forget.
So I apologize for not writing the feel good piece of 2018 as the title may have suggested.  I started it, then realized I was getting visibly angry as I wrote it.
Well, can't wait for another year of getting my hopes up!