Sports Illustrated
Zion Williamson dominated high school basketball. He was a man among boys. Then he went to Duke, where he dominated college basketball for his lone collegiate season. Now, Zion is just over a week away from his regular season NBA debut for the New Orleans Pelicans and he seems destined to continue his dominance. The 19 year old phenom has shown the league in just a few preseason games that he will be a force to be reckoned with from the jump.
It's just the preseason. Yes. But while these games may not have the same intensity of a regular season game, he's still been going up against some of the league's best defenders. And he's dominated. Per 36 minutes, Zion is averaging 30.7 points, 8.9 rebounds 2.9 assists, and 1.9 steals…while shooting 72 percent from the field. SEVENTY-TWO. His full shooting splits through four games are .719/.687/.200.
One of the biggest question marks surrounding Zion entering the league has been his three point shot. As his 20% mark thus far would indicate, he still has a ways to go to become a reliable outside shooter. The thing is, it looks like he doesn't necessarily need the jump shot. He's getting to the rim at will. He's been able to use his unique frame to finish against some of the league's best defenders, including this finish over Rudy Gobert: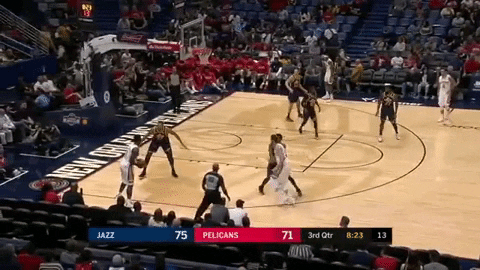 His rare blend of size, speed and leaping ability already has him undoubtedly in the upper echelon of NBA athletes in terms of raw athleticism. Even when he may take a wild shot at the rim, he's quick to react and has one of the best second jumps in the league.
Williamson has yet to develop a great feel defensively as shown by the fact that he has yet to record a single block after being a prolific shot-blocker in college. It's understandable considering it has just been a few games, but once he starts to get a feel for the game on the defensive end, Zion has the chance to become one of the league's most dominant two-way players. Don't be surprised if the most hyped rookie since LeBron actually outdoes James himself by making an All-Star team as a rookie. He has all of the physical tools to do so and has shown the ability to be a dominant and ridiculously efficient offensive force already.
Zion also comes into the league with an advantage that James did not have as a rookie: a talented roster around him. With veterans Jrue Holiday, Derrick Favors and JJ Redick to go along with former Lakers Brandon Ingram and Lonzo Ball, Zion has the chance to put together a rookie season that not only includes a possible All-Star selection, but could end with a playoff birth.